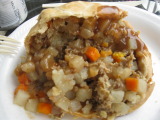 This should be the "State Burger of Wisconsin"!!! I had one of these at a roadside family restaurant/bar & grill in northern WI, a couple years ago.It was GREAT!!! I've tried to replicate it & I think I'm pretty close. If you can't find bratwurst patties, remove the casing off of an uncooked bratwurst link & make a pattie out of it.(This is for just one burger)
Directions
Using a flat-top griddle, grill or frypan, --
Cook the burger pattie so that it's still a bit "pink" inside & top with the cheddar cheese slice.
Cook the bratwurst pattie completely through & top with the monterey jack slice.
Stack both patties on the toasted bun & top with the lettuce, tomato & onion slice.
Top with your favorite condiments -- I prefer just ketchup & mayo.
REMEMBER: "The messier the burger, the better it is" -- ENJOY!