Rita1652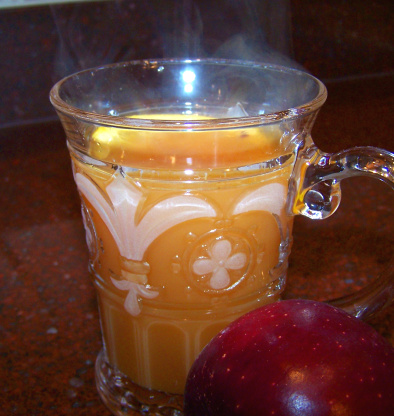 Wassail comes from the Anglo-Saxon toast "waes hael" or be whole". The first carols were Yuletide drinking songs and singers caroled their neighbourhoods carrying their wassail bowls with them. That was just to get you into the spirit, now down to business. I have no idea how many servings you'll get. When I make this I don't use any alcohol and I serve small amounts to younger children (diluted with apple juice) while the men bring big coffee mugs (with their own spirit base).

I have put this in my 'Tried & True' book. I made this for the kids for our Christmas Tea since they don't seem to like tea ... yet. I tied the whole spices in cheesecloth for easy removal and put everything except fruit in the crockpot for 2 hours on High. I then added the fruit and turned the crockpot to Low until ready to serve. This was a hit with both the kids and the adults. So much for the tea! I will definitely make this again and have 'spirits' available for the adults to add to their cups before getting wassail. Great recipe (and great idea for 'spirits')! Thanks for posting!
Pour cider into large kettle, add spices and salt. Bring to a hard boil, reduce heat and simmer 15 minutes
Remove from stove, add sugar to taste, if needed.
Cool. Strain wassail. Keep in a cool place till ready to use, but it is not necessary to refrigerate.
To prepare a wassail bowl: Use a heavy china bowl, a crock pot or a punch bowl.
Heat it over a large kettle of boiling water. Add lemon and orange slices.
When warm, add gin or vodka and let it heat, but do not boil or spirits will evaporate. Remove from heat.
Pour in the boiling wassail. If possible keep the bowl hot over a candle or alcohol burner. Ladle into punch cups and serve.