Winter Veggies Under a Fluffy Cheddar Blanket
A yummy looking veggie dish made with all my favorite veggies. Use my Fluffy Cheddar Biscuit recipe for the topping. From Food Everyday issue 9.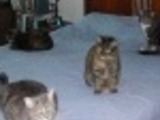 Very good, tasty and substantial meal. The vegetables were sweet and evenly cooked. The buttery and cheesy biscuits (fluffy too!) were a perfect foil for the vegetable stew beneath. This is a hearty fall or mid-winter meal, full of vitamin A and something everyone should enjoy. I omitted the mushrooms but otherwise followed the directions to the letter. My only suggestion would be to use only 2 cups of vegetable broth (and about 1 1/4 teaspoons of cornstarch) and FYI I topped a 9x13 casserole dish holding the vegetables with 5 rows of 3 biscuits. Excellent family fare, thanks CP!
4

medium carrots, peeled, halved lengthwise, and cut into3/4 in chunks
1 1⁄2 lbs button mushrooms, halved

1

lb yukon gold potato, cut into 1 in chunks

1

lb yam, peeled and cut into 1 in chunks

3

large parsnips, peeled, halved lengthwise, and cut into 1 in chunks

1

lb leek, white and pale green parts only, cut into 1/2 in pieces-wash carefully

1

large red onion, quartered and cut into 1/2 in chunks
1⁄4 cup olive oil
3⁄4 teaspoon dried thyme

3

cups vegetable broth
1⁄2 cup dry red wine

2

tablespoons cornstarch
1⁄3 cup water
salt and pepper
fluffy cheddar biscuit dough, before turning out onto a work surface, for topping
Preheat your oven to 425°F.
Toss the veggies together with the oil, thyme, salt and pepper.
Divide them between two baking pans with rims on them (to spread out the veggies).
Roast them for 25 minutes, then check to see if they are sticking. If they are, sprinkle a little water on them.
Then roast them for another 20 minutes, until they are browned and tender.
While you are waiting for the veggies to roast, make the cheddar biscuits for the topping. Do not cut and bake the biscuits. Set aside.
When the veggies are done, put them into a 3 ½ quart baking dish, and raise the oven temp to 450 degrees.
Dissolve the Cornstarch in the water.
In a saucepan, bring the veggie broth and wine to a boil, then whisk in the cornstarch.
Boil while whisking for 1 minute.
Pour the broth and wine mixture over the veggies, stirring to coat.
Drop spoonfuls of Cheddar Biscuit topping over the veggies.
Bake until the topping is golden brown, 15 to 20 minutes.
Allow to cool for 10 minutes, then serve.