PaulaG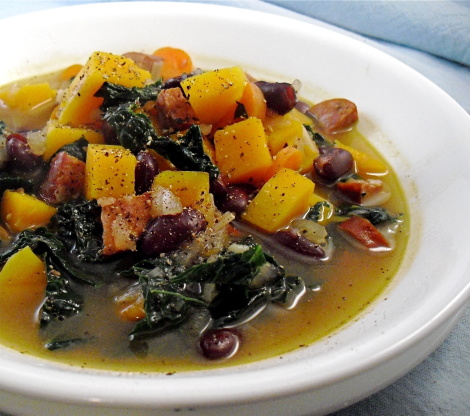 Top Review by PaulaG
I did make a few changes to the recipe based on ingredients on hand. The sausage was a smoked Linguaca. All chicken broth was used for the liquid and chopped kale was added at the time the beans were added. I did reduce the pasta considerably and used a gluten free linguine which was broken up. After tasting I did add in some salt. The spicy sausage added lots of flavor and is essential in making the soup a success. This was nice and comforting.
Cook kielbasa and onion in a 4 quart Dutch oven over medium high heat for 5 minutes or until onion is tender, stirring occasionally. Add broth, water, squash, carrot, and pepper. Cover and bring to boiling; reduce heat. Simmer, covered for 5 minutes.
Stir in pasta and beans. Return to boiling; reduce heat. Cover and boil gently for 6 minutes or until pasta and vegetables are tender, stirring occasionally. Stir in spinach.