Jean R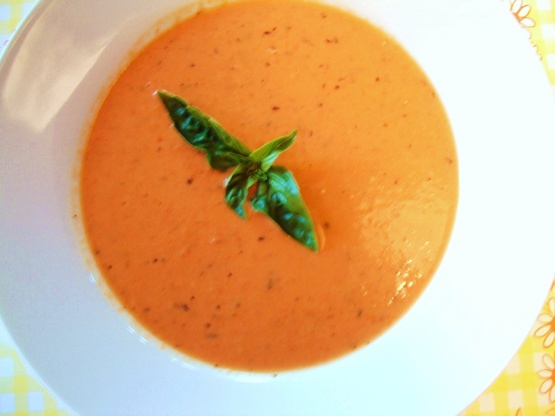 This is yummy, yummy. I always use my hand blender thingy right in the pan, instead of transferring the hot soup to my blender. It's nice to float homemade croutons or basil on the top. Great with grilled cheese sandwiches! I found this years ago in A Taste of Oregon cookbook.

WOW! I have been looking for the perfect tomato soup recipe, and have tried many recipes and I have finally found the perfect one. Usually the consistency of the soup is either too think and chunky or too thin...this was a very creamy soup. The canned italian tomatoes really made the difference. Thank you so much! This is a keeper! :)
In a saucepan melt butter and add olive oil, onion, thyme, basil and salt and pepper.
Cook, stirring, until onions wilt.
Add tomatoes and tomato paste.
Simmer 20 minutes.
Blend together 5 T of the chicken broth with the flour.
Add this to the soup, stir, then add rest of broth.
Simmer 30 minutes, stirring often to prevent burning.
Puree soup in blender.
Return to heat.
Add sugar and cream.
Simmer 5 more minutes.