Winter Squash Spice Muffins
Rita1652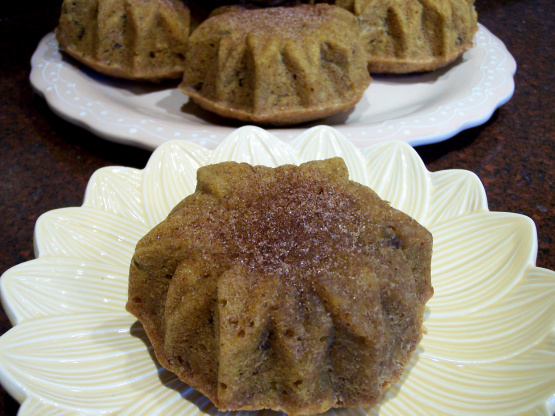 Spicy sweet muffins. A nice treat for Halloween or Thanksgiving. Wrap them up for a gift.

I'm sorry, Rita, but no one in my family was crazy about these muffins. They were very heavy, and even with all the spices in them they somehow tasted bland. They were also not nearly as sweet as I would have liked. I did use soy buttermilk and Eggbeaters in place of the eggs, but I've made these substitutions many times without any problems.
Heat oven to 400 degrees.
Grease muffin tin with butter.
Mix flour, sugars, spices, baking powder and salt in large bowl.
Cut in butter with pastry blender (I use food processor pulsing till crumbly) or knives until mixture is like fine crumbs.
Beat egg in a medium bowl; stir in squash, peel, raisins, and buttermilk.
Add to flour mixture until just blended.
Fill muffin cups 3/4 cups full.
Sprinkle tops with sugar.
Bake 20-25 minutes until lightly browned and center is done when tested with a toothpick.
Makes 12 muffins.
Serve with Pecan Honey Butter recipe#69286 or what ever you like.