Parsley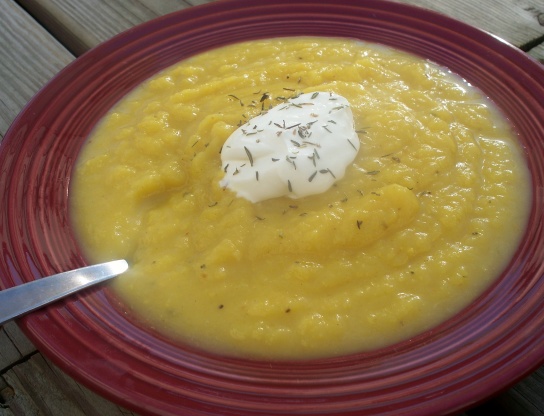 Acorn squash gives this soup its unmistakable Fall and Winter flavor. This will make 12 side servings.

Super! Perfectly spiced and great thick, texture. I added a little thyme right into the bisque as well as a garnish. I used my immersion blender to blend. My aunt grows acorn squash and often gives some to me. This recipe will be on top of list to use them up. Thanx!
Halve squash and remove seeds.
Place squash halves, cut sides down, on a baking dish.
Bake in a 350 degree F oven for 30 minutes. Turn cut sides up. Bake, covered, 20 to 25 minutes or until squash is tender.
Scoop squash pulp out of the peel using a spoon; discard peel.
Place pulp in batches in a blender container or food processor bowl.
Cover and blend or process until squash is smooth, adding some of the chicken broth if the mixture is too thick.
Stir together pureed squash and remaining chicken broth in a large saucepan.
Stir in ginger, salt, pepper, and cinnamon. Bring mixture to boiling.
Reduce heat and stir in half-and-half or light cream.
Heat through, but do not boil.
If desired, garnish each serving with sour cream and thyme sprigs.