Winter Squash and Sausage Penne
PaulaG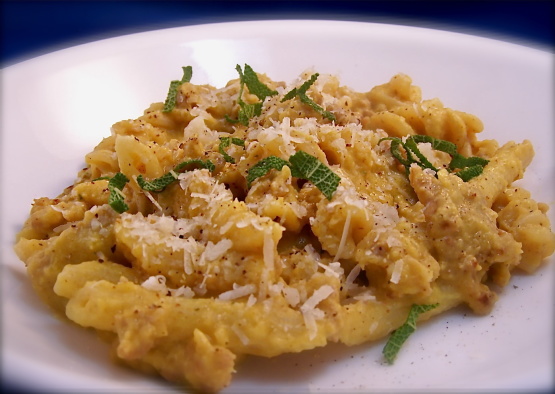 If you're tired of stuffing it or putting it in a casserole or you have leftovers, this is a great way to use any winter squash (pumpkin, butternut, acorn). I adapted this recipe from one I found in the Winter '09 issue of *Cooking for 2*. If I'm not using leftovers, to prep the squash, I usually peel, seed and chop it, drizzle it with olive oil and sprinkle it with salt and pepper then roast it in the oven on a foil-lined baking sheet for 30 minutes at 350 degrees. Since you can cook the squash while prepping the other ingredients and sauteeing the sausage, onions and garlic, this only adds about another 10 minutes of prep time.
Top Review by PaulaG
The sauce is rich and delicious and the serving size is on target. I followed the suggestion in the intro and roasted the butternut squash in the oven. Nothing brings out the natural sweetness of vegetables better than roasting. Since I do not cook with wine I opted to add additional chicken stock and am sure that the change resulted in reduced flavor. This was served with freshly grated Parmesan cheese. Thanks for posting this delicious recipe.
Cook pasta according to the package directions.
In a large skillet, brown the sausage over medium-high heat. Drain, reserving 2 teaspoons of the drippings, and set aside.
Reduce heat to medium. In the same skillet, saute the onion and garlic in olive oil and the reserved drippings until the onions just begin to brown.
Add the wine and bay leaves, bringing the mixture to a boil over medium heat, then turning the heat to medium-low and simmering until reduced by half.
Stir in the chicken broth, the winter squash, half of the sage, and the cinnamon and nutmeg. Continue to simmer over low heat for 2 or 3 minutes.
Add the half and half, salt and pepper, and transfer the sauce to a food processor or blender and process until smooth.
Return sauce to the skillet and stir in the sausage and pasta. Cook and stir over low heat until heated through.
Before serving, sprinkle with Romano cheese and the remaining sage.