Rita1652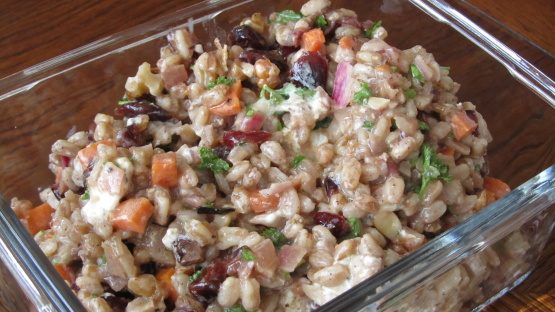 This yummy and healthy recipe comes from the wonderful book "Mon premier dîner végétarien" by Alice Hart. It is slightly sweet, nutty and just super yummy. It looks very pretty, too. I brought it to a party and it was gone in nearly no time. I hope youll enjoy this as much as we do!

Great, just great! We loved this salad & I've been asked to keep the recipe around & make it again, so . . . The only thing I changed (no big thing) was to use nicely rounded measures of the cranberries & the nuts! And, although I usually have my dressing on the side, the amount called for in this recipe was right on, at least for the 2 of us! Thanks for sharing the recipe for this wonderful tasting salad! [Tagged & made in Please Review My Recipe]
On a paper-lined baking sheet combine carrots, onions, olive oil, honey and spices.
Bake in the preheated oven at 190°C/375°F for 25 minutes until soft and caramelised.
Add the walnuts and cranberries and bake for another 5 minutes.
Meanwhile combine spelt berries (or grain mix), 500 ml water and a pinch of salt in a large pot. Bring to a boil, then reduce the heat and cook covered for 25 minutes or until tender. Drain if necessary and set aside.
In a large serving bowl combine the baked vegetables, spelt berries, parsley (is using) and feta cheese.
For the dressing combine all of the ingredients and then pour it over the salad. Mix well and enjoy either warm or cold.