Winter Ratatouille (With Option to Make Into a Great Appetizer!)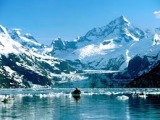 I made this into an appetizer for New Year's Eve and it was a huge hit! I also had enough leftover ratatouille for a side dish the next day. This is a great, easy and healthy recipe. It is very versatile: adjust the veggies to your liking, make into an appetizer (see directions and note below), enjoy as a vegan main dish or serve as a side. *Oh, I just thought of another great idea, you could serve this over pasta...yum! **Please do look at my extra notes about olive oil amount and cooking time for the veggies. Both are personal preference and I noted what I like to do.**
Directions
Heat olive oil in a large skillet over medium-high heat. Add onion, cook for 2 minutes. Add yellow and orange bell peppers and cook for another 2 minutes. Add zucchini, yellow squash and eggplant and cook for 2 more minutes. Add garlic, tomato, salt and pepper and cook for about 1 minute.
Note: I like to continue cooking all the veggies for several more minutes. It's a personal thing, I like my ratatoullie veggies really soft and like letting the flavors meld together.
Note: You may need to add some additional olive oil as you add more veggies. This depends on the size of your veggies and your personal preference. I usually do add a tablespoon or two more as I cook out the veggies.
To make into an appetizer:.
Spoon ratatouille into the mini phyllo cups and bake in a preheated 400 degree oven for about 8 minutes, or until heated through.
Note: you could also choose to fist put in a bit of boursin cheese into the phyllo tart first, then add the ratatouille on top and bake as directed.
Reviews
Most Helpful
I'm a huge fan of ratatouille, so I had to make this. Like LIG, I prefer my ratatouille veggies soft, so I let it cook considerably longer. This is a great quick way to make ratatouille. Thanks for posting! Made for Culinary Quest 2015 / Quebec

This is a great recipe. Very healthy. Perfect. I'm trying to eat more veggies. DH also liked this a lot. I'm sure it would be great as an appetizer in phyllo cups but I didn't try. Thanks LifeIsGood :) Made for Rookie tag game
Excellent recipe. And extremely quick once the veggies are chopped. ;) It does need a bit more cooking than listed. I left mine on low to simmer while I made couscous. And it needed a bit more s&p. No leftovers! Made for Veggie Swap 2/12.