Rita1652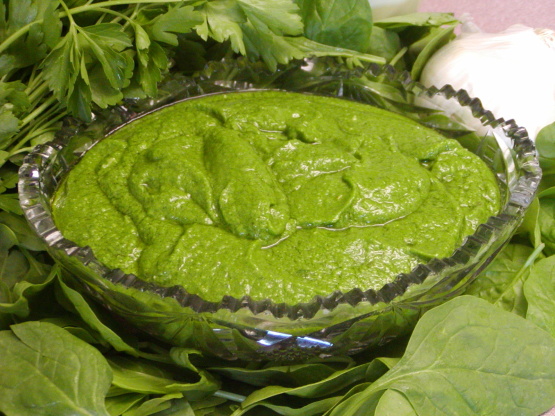 This has a very different taste to a basil pesto, but I think it is delicious. Plus, it's a great way to eat your spinach! This quantity is enough for 2 1/2 lbs of pasta.

This is a great thing to make and then have stored in the freezer for a busy night. I served this with pasta, broccoli, and some parm on one occasion, and it's a good stand-in for the "real" thing. I've also covered flounder filets with it (and then covered and baked), and I've stirred it into "leeky rice" (rice with sauteed leeks) and topped with parm. I'm sure there are many more yummy ways to use this, so I'll soon be making more. Thank you for such a useful recipe!
Mince and mash the garlic to a paste with salt.
In a processor or blender, puree spinach with parsley, oil, walnuts, Parmesan, fennel and garlic paste.
The pesto keeps, covered with a thin film of olive oil and chilled, up to 2 weeks.
This makes enough to use with up to 2 ½ lbs of pasta.