Winter Fruit Salad With Lemon Poppy Seed Dressing
gailanng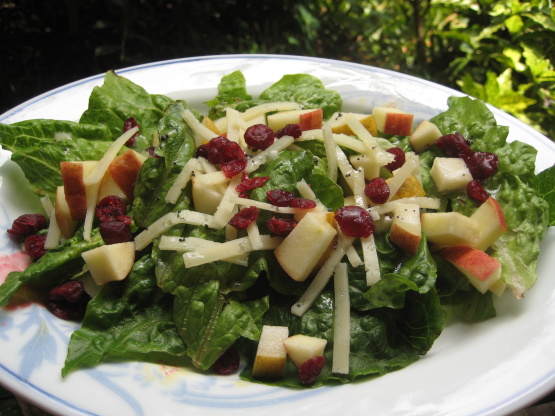 I had this at a friends house & had to have the recipe. Everyone I have made it for begs for the recipe. Everyone just loves this!

This is so very yumpy! I took this to a small birthday party this weekend, and it was a huge hit! The dressing is awsome, to say the very least! I used a combintion of romaine and spinach. I will be making this again, that is for sure! Thanks for the great recipe Ivy!!!
In a blender or food processor, combine sugar, lemon juice, onion, mustard and salt.
Process until well blended.
With machine still running add oil in a slow steady stream until mixture is thick and smooth.
Add poppy seeds and process just a few seconds more to mix.
In a large serving bowl combine the romaine lettuce, shredded swiss cheese, cashews, dried cranberries, cubed apple and cubed pear.
Toss to mix then pour dressing over salad just before serving and toss to coat.