OKBeard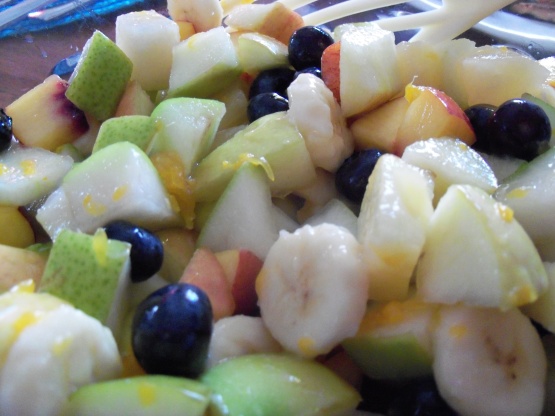 Easy and delicious! I serve this for breakfast on holidays and I always make it the day ahead.

Wonderful recipe! I used what I had in the fridge and bought some blueberries to add as well. I had pears, 3 kinds of apples, nectarine, orange slices, the pineapple and bananas. I didn't add the bananas until right before serving, but made the dish the day before our brunch. Not too sweet (which is what I was afraid of), and even my husband ate the leftovers . Husband works out in the heat and said he wanted me to keep in the fridge this summer when it is too hot for him to eat a heavy lunch......that probably in itself makes it a 10 star recipe!

Can't wait to try with kiwi & strawberries....
Drain pineapple, reserving 3/4 cup juice.
In a saucepan, combine sugar and cornstarch. Add pineapple juice, orange juice and lemon juice. Cook and stir over medium heat until thickened and bubbly; cook and stir 1 minute longer. Remove from the heat; set aside.
In a bowl, combine pineapple chunks, oranges, apples and bananas. Pour warm sauce over the fruit; stir gently to coat.
Cover and refrigerate.