K9 Owned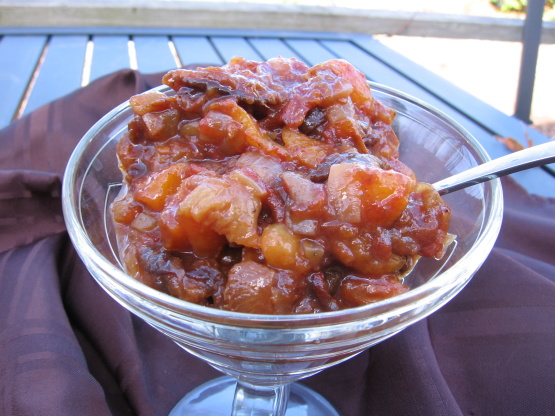 A simple little chutney you can prepare any time of the year, especially nice served with a strong cheddar, it is also delicious with our French Canadian tourtiere. Source: Homemakers Magazine

Such a complementary side to a French tourtiere. 22 girls came to a pre-Christmas party in a small town in Quebec. Food was wonderful and this recipe was a huge success. Only thing I did differently was to cut up the fruit into smaller pieces; and, oh yes, a little bit of cognac made it 110% wonderful.
Place prunes and apricots in saucepan; add 1 cup/250 mL water and bring to boil.
Remove from heat; cover and let stand for 30 minutes.
Stir in onion, apple, tomatoes, sugar, ginger, cinnamon, cloves, nutmeg, black and cayenne peppers, salt and vinegar; bring to simmer.
Cover and simmer on low, stirring occasionally, until thickened to jamlike consistency, 50 to 60 minutes.
Remove from heat and spoon into jar.