ImPat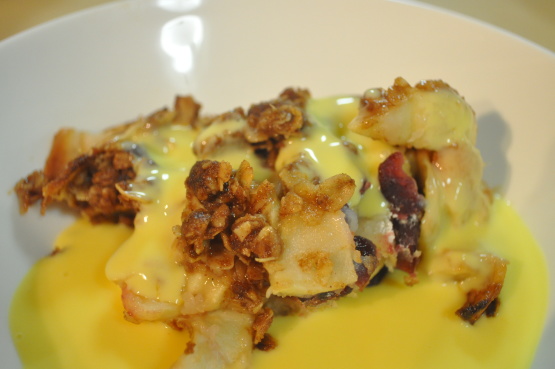 Apples and cranberries together, it's so delicious. And a crisp! Even more :P

Boomie - you have a wonderfully perfect dessert here. I loved the bled of flavors with the apples (used Gala) and cranberries. I did add a dash of nutmeg with the cinnamon as I love that combo but outside of that followed this exactly as written. I did serve it with a small scoop of frozen vanilla bean yogurt too. Can't wait to warm up the leftovers for dessert tomorrow too! 8 servings is a great measurement as that is exactly how many I'll have when we finish it tomorrow. Thanks for a great recipe! Tagged and made for the WTTM tag game.
Filling : In a medium bowl combine sugar, flour and lemon peel; mix well.
Add apples and cranberries; stir to mix.
Spoon into a 6-cup baking dish.
Topping : In a small bowl combine oats, brown sugar, flour and cinnamon.
Add melted butter; stir to mix.
Sprinkle topping over filling.
Bake in a preheated oven of 375 F for 40 to 50 minutes or until filling is bubbly and top is brown.
Serve warm or at room temperature.