Annacia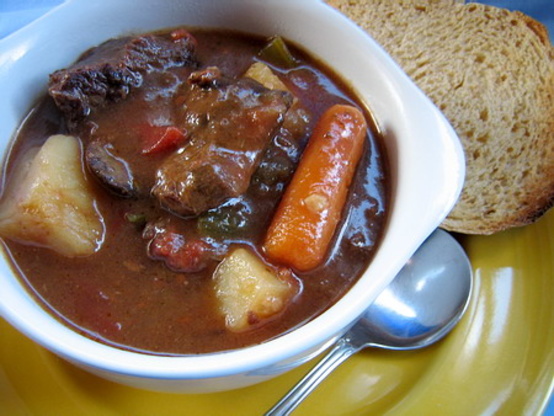 This is a winter classic and it always tastes even better the next day. When choosing a wine to cook with, always remember that you should choose a wine that you would drink. I use a really robust red, like Nero D'Avola from Sicily or a primitivo. This recipe has a bottle and a half of red wine and is a great way to celebrate winter. Serves 4… with leftovers!

WOW. We enjoyed this but to be honest it had a bit too much wine for our taste. It went a little past Perfect and was into Too Much. Aside from that, we liked the addition of the tomatoes and the heartiness. It doesn't take a huge serving to fill you up and the beef came out almost melt in you mouth tender. The garlic wasn't too much at all and I would recommend not to cut back on it. A bowl of stew and a slice of toast and dinner is ready.
Place stew meat in a large plastic mixing bowl with garlic and bay leaves.
Pour in 1 bottle of wine and place in fridge for at least 1 hour and up to overnight.
In a dutch oven or heavy bottom soup pot, heat 1 ½ Tbsp olive oil.
Drain stew meat, saving the liquid, garlic and bay leaves.
Dredge meat in flour, shaking off excess.
Brown meat in dutch oven pan, but only for approximately 5 minutes. Do not fully cook.
Remove meat from pot and set aside.
Add remaining olive oil to pot and add vegetables.
Sauté veggies for 5 minutes, then add the remaining wine plus 1 bottle, scraping the bottom of pan to remove all the bits of flavor.
Add beef broth and tomatoes, bring to a boil.
Add beef back the pot. Cover and simmer for 3 hours.