lets.eat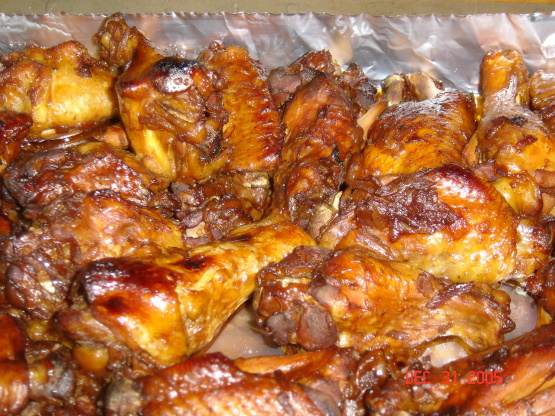 Another crowd pleaser from Mr. Food. My bunch can't get enough.

I was expecting a different flavor of chicken wing. These are very much like the ones we get at a Chinese restaurant. Very easy to prepare. I liked that they were baked and not fried. Thanks NurseDi. Bullwinkle.
Place the chicken wings on two large foil-lined rimmed cookie sheets.
Bake at 425° for 30 minutes; drain any excess fluid.
In a mixing bowl, add the remaining ingredients; stir to combine.
Add the wings; toss to coat well.
Put the wings back on the cookie sheets and bake for 30 minutes, or until the sauce begins to caramelize and the wings get crispy.