Wine-Marinated Country-Style Ribs
momaphet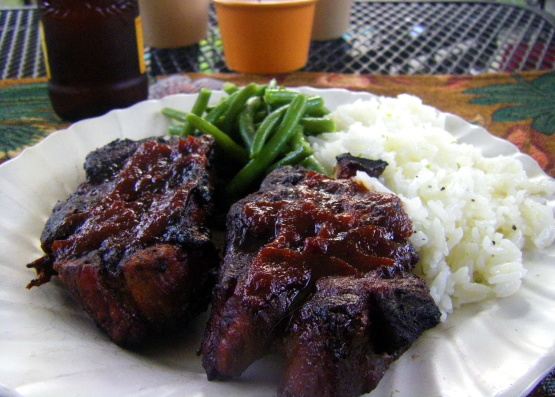 These are a delicious way to grill ribs. Be very careful while grilling ribs for at least the first 1/2 hour otherwise they will burn from the drippings falling into grill (unless you put a drip pan underneath). These do require a long marinading time.
This one was hard to decide how many stars to give. On one hand the ribs came out nice and tender, but so did the ones I didn't marinate, but not quite as tender (I used a rub on them). On the other hand the flavor from the marinade in the meat was very light, and so I needed to put barbecue sauce on them in the end or they would have been bland. On the third hand (can I have 3 hands?) with my normal method of making ribs they come out nice and tender, have lots of flavor and no marinating time. This was the deciding factor for 3 stars - good texture but the flavor isn't special enough to spend the time on the method. I cooked the ribs over direct heat on the gas grill until they were nice and brown then moved them over and cooked with indirect heat for about another hour. Made for Bargain Basement Tag and the Kitchen Special.
Heat oil over medium heat.
Cook oregano and garlic 30 seconds.
Remove from heat and stir in wine, sugar, salt, and pepper.
Place ribs in a glass dish.
Pour wine mixture over top; turn to coat.
Cover and refrigerate at least 4 hours.
Turn ribs occasionally to coat with marinade.
Prepare grill.
May want to place a drip pan underneath.
Remove ribs from marinade reserving marinade.
Grill ribs on grill over medium heat for approximately 1 hour, turning occasionally and brushing with marinade, until ribs are cooked.
Discard remaining marinade.