Kathy228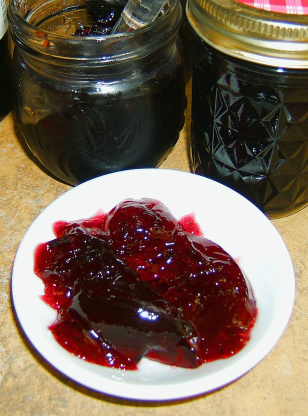 "This jelly is a lovely accompaniment to crackers and cream cheese. You can use any kind of wine, red or white."

I've made this recipe countless times but never reviewed it. It's so easy and fool-proof to make; I've never had a failure. My yield has always been six half-pints plus a taster for the fridge. I've found that a very robust red wine gives the best winey-flavor, so I use a medium-priced ($9) cabernet-merlot blend. A cheaper wine produces a grape jelly taste with not much wine kick (which is perfect if that's what you want). Thanks for posting NanaLee.
Combine wine, lemon juice, and pectin in a large saucepot.
Bring to a boil, stirring frequently. Add sugar, stirring until dissolved.
Return to a rolling boil.
Boil hard 1 minute, stirring constantly. Remove from heat.
Skim foam off top, if necessary.
Ladle hot jelly into hot, sterilized jars, leaving 1/2 inch headspace.
Tighten 2 piece lids.
Process for 5 minutes in boiling water bath.