Wine Braised Leeks With Red Pepper & Shiitakes
Rita1652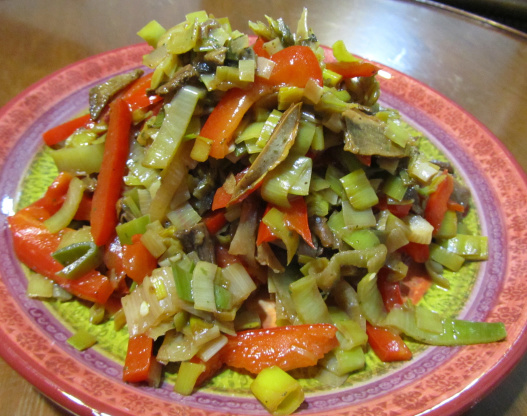 This is a very elegant side dish which allows the natural flavors to shine through. I believe this recipe came from Nava Atlas.
Trim away the bottom and the large green leaves of the leeks. Use the white and lightest green parts of the leek. Cut them down the center lengthwise and then chop into 1/4 inch thick slices. Rinse.
Heat oil in large skillet and add the leeks and half of the white wine. Cook, covered, for 8-10 minutes until the leeks have softened.
Add the mushrooms, bell peppers, and the remaining wine. Cook, covered for 6-8 minutes until the mushrooms are wilted and the peppers are tender-crisp. Season to taste with salt & pepper, Enjoy!