Nimz1466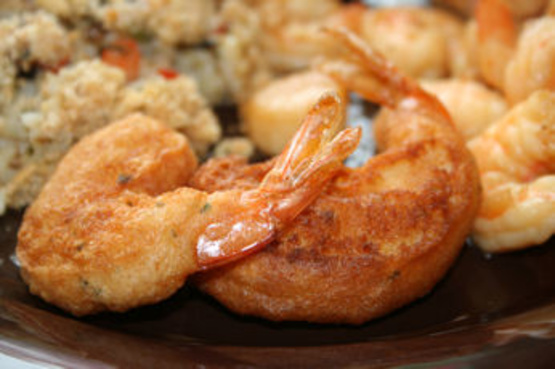 An interesting fried shrimp recipe

Loved, loved loved it. The batter was so light and browned beautifully. We don't eat much fried foods, but this is worth it. Flavor was great. Had some extra batter, but so what. I got one and Dave ate the rest. Made as directed without any changes and I have no suggestions to make it better, except to maybe add a little salt and pepper, but not a biggy. This does not serve 2 if they are anything like Dave. LOL thanks Anme.
Combine 1/4 cup flour, baking powder, and salt (setting aside 1/4 cup flour), then combine egg yolk, cilantro, and wine in a seperate bowl, then combine both bowls of ingredients.
Beat egg whites until they are stiff then fold into batter.
fill a large saucepan with 2 inches of oil and heat until 365°F.
dip shrimp into flour then into batter and fry until batter is lightly browned, around 4 minutes.