Wine Basted Pork Medallions
Derf2440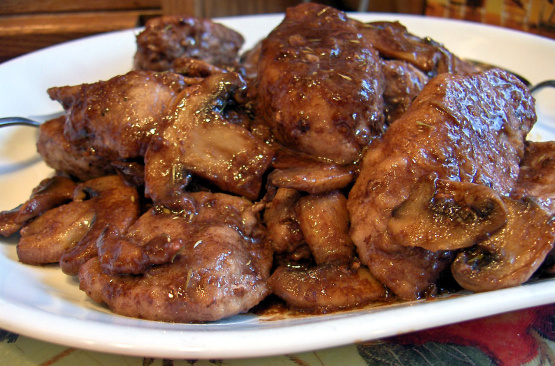 This Recipe is Quick and Easy, It's a Great Base to Play with,You can Add Garlic or Onions or maybe a little fresh Rosemary, It is however Real Good the way it is, This Recipe was sent to me in a Weekly Newsletter I receive from Karen Newton who is an Accomplished Diabetic Author, I plan on Cooking more of her Recipes.

Definately a 5 star flavourful company recipe. Rave reviews from all at the table! I had to use dried thyme, the thyme in the garden is not up yet, I will do this one again when the fresh is available.this was a delicious Sunday dinner served with red potatoes and carrot/celery side. Thanks for posting , I must say I am so happy to have found your recipes during the PAC fun game!! I will be looking at making more of yours all three recipes have been over the top excellant!! Thank-you!
Trim silver from Pork Tenderloin, Using the tip of your Knife. Slide it under the silver and cut away from yourself.
Cut Tenderloin into 1/2" Medallions.
Combine Flour and salt and coat Medallions.
Sauté Cut Up Mushrooms in the Olive Oil until Tender - Set aside.
Melt Butter over Med High Heat. Add Pork Medallions and Cook for about 1 to 1-1/2 Minutes on Each side until Golden brown - Set aside Pork with the Mushrooms.
De-glaze Pan with the Wine.
Add Chopped Fresh Thyme and bouillon and bring to a Boil over Med High Heat for about a Minute.
Add Pork and Mushrooms, Reduce the Heat and Simmer 2 Minutes or so until the Pork is Done and the Sauce is Thick.