Boomette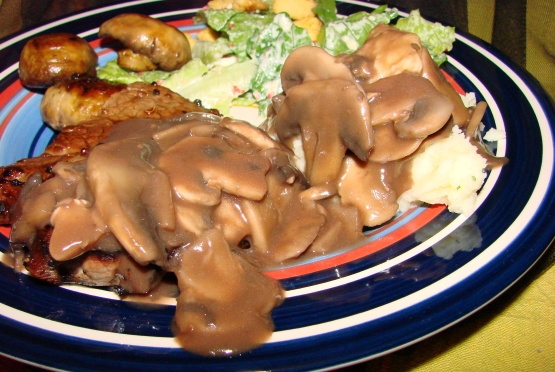 This delicious, yet easy, sauce is the perfect compliment to roasted meats. I often serve with Perfect Pork Tenderloin and love hearing all the compliments.
I did the sauce only with 1 lbs of mushrooms. So I had to adjust the ingredients. I added more beef bouillon and maybe 1 tsp butter. I also added maybe 1/8 cup of red wine. It was very yummy on steak and mashed potatoes. Thanks Vicki :) Made for Photo tag game
Saute mushrooms in 2 tablespoons butter until limp. Set aside.
Melt remaining butter in skillet and add flour making roux. Add bouillon and stir until thickened. Add wine and mushrooms. Season with salt and pepper. Heat until done.