CurlDiva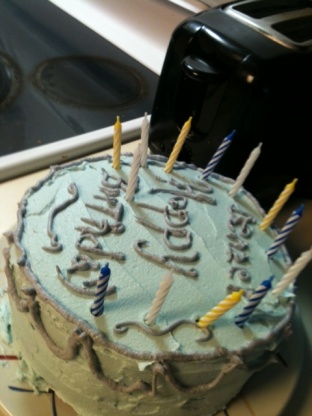 Perfect for icing cakes and decorating :) Can sit out at room temperature. For thin (spreading) consistency icing, add 2 tablespoons light corn syrup, water or milk. For Pure White Icing (stiff consistency), omit butter; substitute an additional 1/2 cup shortening for butter and add 1/2 teaspoon No-Color Butter Flavor. Add up to 4 tablespoons light corn syrup, water or milk to thin for icing cakes

This is the updated trans fat free version. Very creamy, easy to spread.I have used both unsalted butter and I have subbed Best Life Diet baking sticks for the butter and it yeilded a wonderful taste and a white color both times. The best thing about this recipe (besides the versatility) is the fact that it doesn't leave that waxy coating on your tongue after you have eaten it like some butter cream icings do. This is my go to recipe for all my special occasion cakes. When there are left overs it can be put in the refrigerator and spread over a basic sugar cookie recipe.
In large bowl, cream shortening and butter with electric mixer.
Add vanilla. Gradually add sugar, one cup at a time, beating well on medium speed.
Scrape sides and bottom of bowl often.
When all sugar has been mixed in, icing will appear dry.
Add milk and beat at medium speed until light and fluffy.
Keep bowl covered with a damp cloth until ready to use.
For best results, keep icing bowl in refrigerator when not in use. Refrigerated in an airtight container, this icing can be stored 2 weeks. Rewhip before using.
NOTE: Changes in Wilton's traditional recipes have been made due to Trans Fat Free Shortening replacing Hydrogenated Shortening.