Linky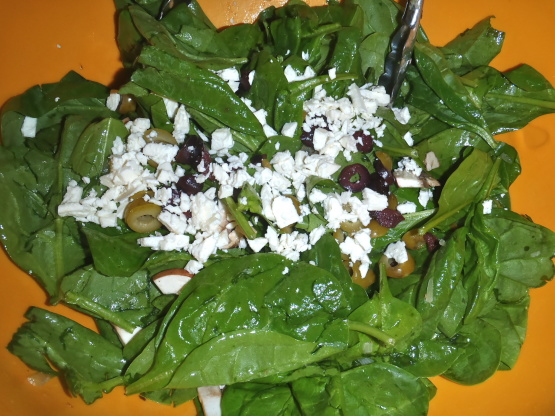 Adapted from the big book of vegetarian. Tossing fresh spinach in a hot vinagrette really brings out the flavor!

Top Review by Linky
A very nice spinach salad. I was surprised when the directions said to add the lemon juice. What lemon juice? I added about 2 1/2 Tb. and it was a bit too tart. Liked the feta and added sliced baby bella mushrooms to help absorb the lemon. made for ZWT9 Soup-a-Stars
Place the spinach in a large bowl.
In a small skillet over med heat, warm the olive oil. Add the shallot, garlic, sugar, salt, pepper and oregano. Cook, stirring often until the shallot is slightly softened, about 3 minutes. Stir in the lemon juice.
Pour the warm dressing over the spinach. Add the feta and olives and toss gently until the spinach is wilted. Serve right away.