Wilted Spinach and Mushroom Salad with Bacon and Strawberries
Derf2440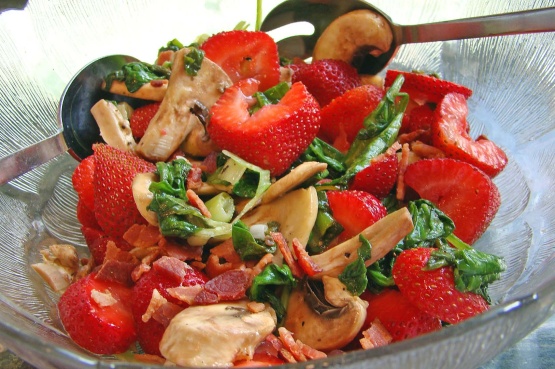 An elegant and wonderfully flavored main dish salad. It's light (perfect for when you just happen to have a lavishly rich dessert lying around!) and easy--it takes about 25 minutes from start to finish.

this was a nice salad, we liked the spinach wilted . Sorry I just couldn't bring myself to use the bacon grease for a dressing so I cooked the bacon crisp in the microwave and used olive oil to make the dressing, turned out very nice. loved the mushroom, spinach, green onion and especially the strawberries, thanks for posting.
In a large bowl, combine the spinach, mushrooms, and scallions; sprinkle with pepper and set aside.
For the dressing, cook the bacon in a 12" skillet until crisp.
Remove the bacon; reserve 2 Tbsp.
of the drippings.
Crumble the bacon; set aside.
Stir the vinegar, sugar, and dry mustard into the reserved bacon drippings; bring to a boil, then remove from heat.
Add the spinach mixture; toss the mixture in the skillet for 30-60 seconds, or just until the spinach is wilted.
Transer the salad to a serving dish or large bowl; add the strawberries or orange segments.
Top with the crumbled bacon and serve immediately.