Wilted Dandelion Salad With Feta Cheese
PaulaG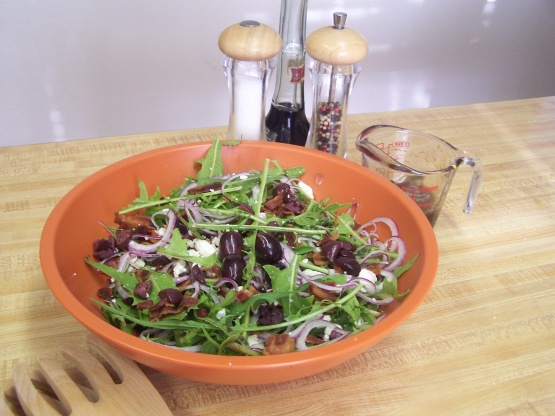 A very inexpensive salad. Dandelion leaves, flowers, and roots are all edible if you have an organic yard or store buy! Dandelion is a bitter green. The cheese helps smooth out the bitterness, the honey gives it sweetness and receives saltiness from the bacon, cheese and olives giving this salad an all round full flavor for your taste buds.hese greens are nutritious—-high in vitamin A, vitamin C and iron. Also low in calories, fat and cholesterol. As with any green, the younger the plant, the more tender it is. For the safest crop, be sure to pick greens well away from major roads or other chemically treated areas, and wash the greens well before you use them. And they are free! Amount: 3 1/2 ounces. Calories: 33. Fat: 0.6 grams. Protein: 2 grams. Vit. A: 12,168 (IU). Vit. C: 18 milligrams. Iron: 1.8 milligrams

The slight sweetness of the dressing balanced the bitterness of the dandelions quite nicely. I used kalamata olives, skipped the bacon, and substituted goat cheese. I don't like raw onions, so I soaked the sliced onions in salted cold water for about an hour to remove the "bite." I learned that last trick from Nigella!
Fry bacon in skillet until crisp, drain on paper towels, crumble.
Pour off bacon fat leaving behind 1/3 cup in the skillet.
Put vinegar, mustard and honey in the skillet mixing with a whisk.
Add the olive oil.
Add salt and pepper, keep this dressing warm.
Toss the greens with bacon, olives, onions and cheese in a bowl.
Pour the warm dressing over greens and serve.
Garnish with flowers.
Yield: 4-6 servings.