Boomette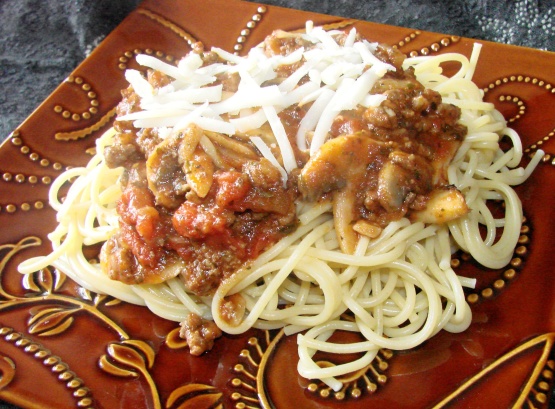 This started out being my recipe for spaghetti sauce, but when I taught my husband to make it, he improved it so it's now his. Our son, when he was young, was very concerned that he always be able to make Dad's sauce, so he watched and wrote down the recipe. I'm posting it here, so he can access now that he's grown and away from home.
I made this recipe at the last minute. The smell of the spaghetti sauce was awesome. And the taste also. I omitted the olive oil since I used 1 lb of lean ground beef. I used 1 small onion. And just 1 garlic clove cause I'm not really a fam of garlic. The seasoning is perfect. I just omitted the seasoning salt. And I used more than 5 dash of hot sauce by mistake. Oh and I added half a package of mushroom sliced. We liked this spaghetti sauce so much. Even my son of 4 years old that is fussy. Thanks Diane :) Made for PAC Spring 2010
Heat oil in frying pan. Saute onion until translucent.
Crumble turkey, saute with onion until golden brown. Add garlic and saute 30 seconds.
Add tomato sauce, diced tomatoes, and all seasonings. Simmer 10-15 minutes. Taste and adjust seasonings as needed.
Bring a large pot of water to a rolling boil. Add spaghetti noodles. Cook until al dente - about 8 minutes. Drain noodles and put in large bowl. Toss with sauce.