Williamsburg Orange Cake With Williamsburg Butter Frosting
Olive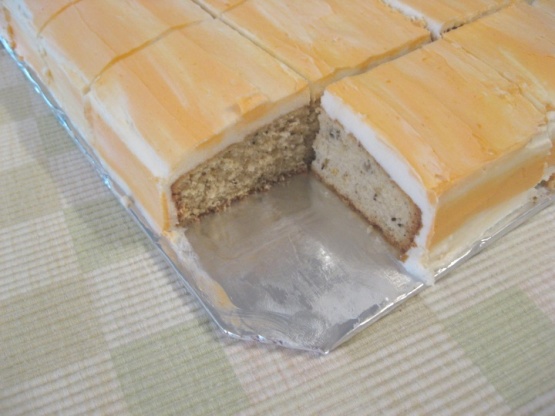 Top Review by Olive
This is the same recipe I have had for years. It is a really good orange cake. It makes a pretty layered cake but sometimes I bake it up in a sheet pan and change the icing for a different look. Plus, I usually always use finely chopped walnuts instead of pecans. I generally make a white buttercream icing and save a bit of the icing for tinting orange.Then I swirl the tinted icing on top of the cake that has been frosted with white icing, giving it a Dreamsicle/Creamsicle look just for a little something different.
FOR THE CAKE: Combine first 10 ingredients. Blend with an electric mixer 30 seconds on low speed; beat 3 minutes on high speed. Stir in raisins and pecans.
Pour into 3 greased and floured 8 inch round cake pans. Bake at 350°F for 30 to 35 minutes or until a wooden pick inserted in center comes out clean. Cool in pans 10 minutes; remove from pans, and cool completely. Spread Williamsburg Butter Frosting between layers and on top and sides of cake. Garnish cake with orange rind and sections. Yield: one 3 layer cake.
FOR THE BUTTER FROSTING: Cream butter; gradually add sugar, beating well. Add orange rind and juice; beat until smooth. Yield: enough for one 3 layer cake.
The Southern Heritage Cakes Cookbook.