Will Brink's Chocolate Protein Bars
KateL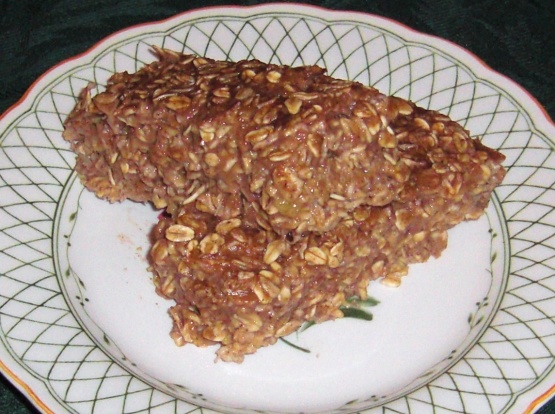 These are tasty, nutritious and easy to make. The recipe is from a collection Tasty Fat Loss and Muscle-Gaining Recipes by Will Brink, a bodybuilder. I use vanilla whey powder and add 1/4 C cocoa and mix it all in a food processor. This saves mashing bananas and fighting with the peanut butter. They also freeze well.

Top Review by Bizzie
These were great! I've tried a few different homemade protein bar recipes and this one is the best so far. I even halved the recipe and didn't measure most of the ingredients exactly and they were great. Took them to the beach to eat while everyone else ate junk! Additional Note: I have now made these a few times and have successfully replaced the bananas with applesauce and added ground flax seeds. They came out good but needed something..... I think that ingredient is probably a pinch of salt. I think that will bring out the flavors more.
591.47

ml rolled oats (200g)

1

scoop chocolate protein powder (30g)

29.58

ml natural-style peanut butter

3

large egg whites

2

medium bananas, mashed (300g)

14.79

ml honey

103.53

ml skim milk (100ml)

4.92

ml cinnamon
Preheat your oven for 5 minutes at 180° C (350° F).
Mix the oats, whey and cinnamon.
Add the peanut butter and stir in thoroughly.
Add the egg whites, mashed bananas, and the honey.
Add the nonfat milk slowly, while mixing thoroughly.
Spoon the mixture into a greased, lined cake pan and level with a knife.
Bake for 15 minutes. Remove from oven and allow to cool slightly before cutting to reduce stickiness. Cut into 8 bars.