Wild Women's Chocolate Covered Cherry Jello Shots
jenne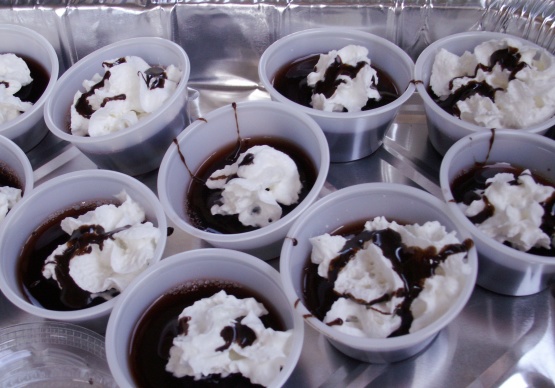 Made for RSC12. Can be made with sugar free or low sugar products. These jello shots can be as silly or as racy as you choose! This makes 36 jello shots that you can let each person top with the whipped cream, chocolate syrup and cherry or have them all pre-made. To keep clean up easy use disposable products and the smallest disposable cups you can find, about 1 oz or so work great. Whether taking these somewhere or not I like to place all the cups in a container for easy transfer to the refrigerator and to catch any spills before the shots set. Try the cardboard that comes under cases of drinks or a regular box - trim the sides if desired to make it more shallow. You could also use a casserole or roasting pan. Also makes it easier to transport if necessary. Cooking time does not include chilling time.

These are a great idea for flavor. I didn't like the extra unflavored gelatin. Next time I'll leave it out b/c even with the smallest amount suggested they were too firm. I substituted the Starbucks coffee liqeur as well. The flavor was great!!! Love the whipped cream and the cherry!!
Measure water in a microwave safe measuring cup. Microwave for 3 minutes or until water begins to a boil. If you do not have a microwave you can use a pan and a stove top.
Pour jello powder into a large container, if possible one with a pouring spout like a measuring cup or pitcher, and add hot water. Stir until dissolved.
Measure creme de cacao and coffee and add to the jello mixture. Stir to combine.
Arrange 36 small disposable plastic or paper cups, about 1 to 2 ounces in size, in a container to protect from spills.
Pour an equal amount of jello into each cup and place container in the refrigerator for at least 4 hours.
When ready to serve shake can of whipped cream well and invert over each cup. Spray a small dollop of whipped cream on top. Drizzle with about a teaspoon of chocolate syrup and top with a cherry!
Have fun!