Wild Rice With Walnuts and Dates
PaulaG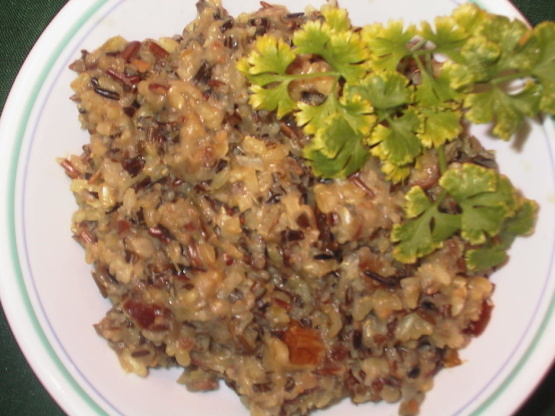 A good combination of wild rice, vegetables, nuts and dates makes for a different delicious side dish or a meal. The recipe comes from Better Homes and Gardens.com

Very nice way to incorporate more vegetables into starchy side dishes! Great flavor/texture, and delicious topped with with the colorful gravy created when making Morrocan Chicken (recipe #)49146. We served the two together along with Apricot Salad and a mediteranean zucchini/tomato dish. The only change I might consider next time is to add more color by adding a few shredded carrots (or chopped green onion to the sauteed veggies at the beginning step. The parsley (as you pictured) would be pretty also, chopped and scattered on top. Thanks, Barb, for yet another winner!
In a 10-inch skillet cook celery and onion in hot butter about 10 minutes or until tender; add uncooked wild rice; cook and stir 3 minutes.
Add broth and water, bring to a boiling;reduce heat; cover and simmer for 50 to 60 minutes or until most of the liquid is absorbed and rice is tender.
Stir in dates and walnuts, cook, uncovered, for 3 to 4 minutes more or until heated through and remaining liquid is absorbed.