Wild Rice Stuffed Mushrooms
sowotiff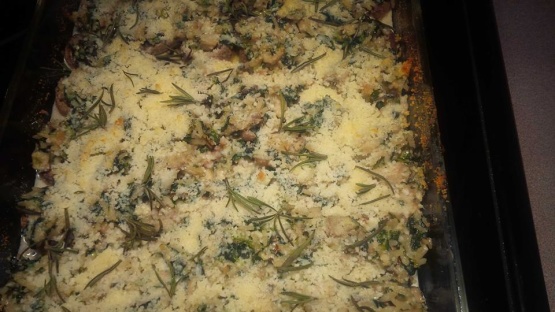 These are awesome. I never have any left. Its a good way to use up leftover wild rice. The recipe calls for white mushrooms, but I sometimes use criminis.
Preheat oven to 400°F.
Butter a shallow baking dish.
Snap stems off mushrooms and chop. Please caps with tops down in buttered dish.
Melt butter in a medium size skillet. Add garlic and mushroom stems. Cook over medium heat, stirring, 3 minutes.
Add wild rice, cream, salt and pepper and boil 1 minute, stirring until mixture is thickened.
Spoon wild rice mixture into the mushroom caps.
Sprinkle with the Parmesan cheese and top each with two or three leaves of rosemary.
Bake 10-15 minues or until hot.
Serve warm.