Wild Rice & Chicken Casserole
Nasseh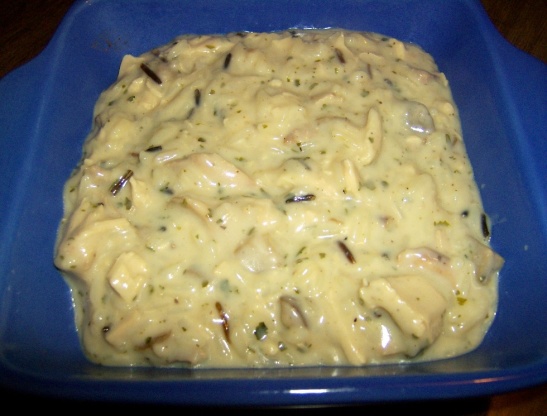 This goes well with a salad and some crusty rolls. A nice light dinner. Make sure you stir half-way through cooking as stated or may come out runny (found this out after making it a few times).

This dish tasted good, but the smell, oh the smell! It turned DBF off, and he wouldn't try the dish. I'm more of a trooper though and didn't let the smell hinder my tasting. The dish tasted alright, but the smell lingered in my house for two days. I used less than 1/4 of an onion too. I'm not sure if i'll make this again because of the smell factor, but it really is an okay tasting dish.
473.18

ml cooked chicken, cut up (I just use chicken breasts)

414.03

ml boiling water

78.07

ml milk

1

small onion, cut up

304.75

g can cream of mushroom soup

170.09

g packageseasoned long grain rice (like Lipton Sidekick or Uncle Ben's, size is approximate)

1

can mushroom, drained
Heat oven to 350*.
Mix all ingredients together including seasoning packet from rice.
Place in ungreased 2 qt casserole dish.
Cover and bake 45-50 minutes or until rice is tender.
STIR HALFWAY THROUGH COOKING.
Uncover and bake 10-15 minutes longer or until liquid is absorbed.