Whipper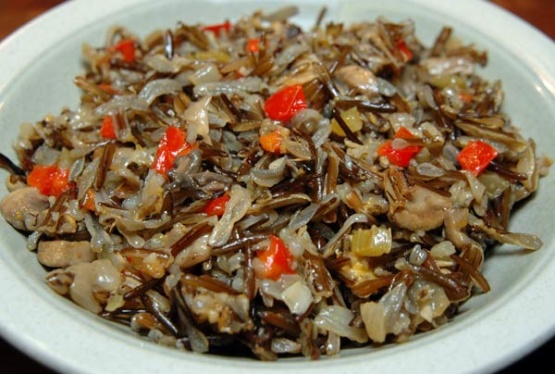 Goes great with roast turkey, chicken, salmon, or trout. An impressive dish to have when guests arrive. Very hearty eating.

This rice was delicious! I used a mixture of white and wild as that is all that I had on hand - I cooked it for 20 minutes. I also added a bit of chopped red pepper for some colour. It was very easy to prepare and a huge hit at our thanksgiving dinner. I highly recommend this recipe! I also noted that it only took 30 minutes to reheat the entire product (after mixing in veggies and cheese).
Place rice in a strainer or sieve and rinse with cold water for about 1 minute, scouring rice with fingers; drain.
Place rice in a saucepan with the broth and salt; bring to a boil, reduce heat, cover, and cook for 40-45 minutes or until tender and most of liquid is absorbed.
If when tender, any liquid remains, drain it.
Cook the mushrooms, onion, celery, green pepper, and garlic in butter in a skillet until the onions are tender, about 5 minutes.
Mix together the rice, vegetables, and cheese, and spread in a greased 2-quart casserole.
Cover the pan and bake at 325F for 35-45 minutes or until the casserole is heated through nicely.
Garnish with toasted almonds before serving.