Wild Rice Broccoli Chicken Casserole
aylett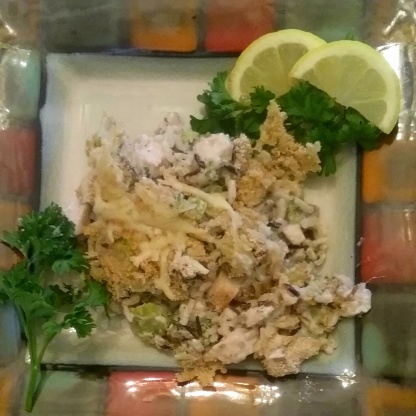 I am not sure where this originally came from (I did not make it up). My OAMC Club uses this recipe Enjoy!

Oops. Thought I had cream of mushroom soup, ended up having to substitute cream of chicken. No problem however, it tasted great anyway. I highly advise using the white wine worcestershire sauce as it adds great tangy flavor. I used about 10 generous shakes of the bottle. I also added grated parmesean cheese on top during the last 15 minutes of cooking. This is a keeper!
170.09

g package long grain and wild rice blend

118.29

ml onion, chopped

118.29

ml celery, cut into pieces

283.49

g package frozen chopped broccoli

29.58

ml butter

304.75

g can cream of mushroom soup

118.29

ml sour cream

78.07

ml white wine worcestershire sauce (optional)

473.18

ml cooked chicken, chopped
Cook rice mix.
Cook onion and celery in butter until tender.
Stir in soup, sour cream, and wine.
Stir in chicken and cooked rice.
Turn into casserole or baking dish.
Bake uncovered in 350 degree oven for 35-40 minutes.
Leftover idea ** Make chicken soup with leftover chicken. Save chicken stock from above recipe. Add 1/3 cup onion, 1 can corn, 1 1/2 cups noodles. Simmer 10 minutes. Add leftover chicken 1-2 cups, heat thoroughly. Season with parsley, salt and pepper.