Barb G.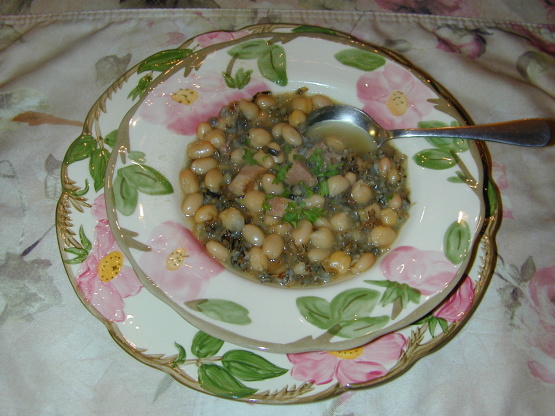 Very simple, very tasty..good for your soup with wild rice (which is actually a grain), pork and beans. Great for a cold dreary day

Made this yesterday when GS (9yrs old) was here and he kept eating and eating and eating! Very wonderful soup. The soup doesn't not have alot of broth ( easily remedied, more broth) but it has excellent flavor. I did use regular white rice as that is what I had, can't wait to try it with wild rice. Even my DH who is not really soup lover gave it a thumbs up. Will definitely make on a regular basis. Thanks so much for pure yuummmm. Laurel
cook wild rice according to package directions, so that you yield 1°C Saute pork and onions in oil in a large dutch oven over medium heat for about 5 minutes, until onions get transparent and pork is lightly brown.
Stir in everything else, except parsley.
Simmer for 20-25 minutes.
Serve steaming hot with parsley sprinkled on top.