Wild Oat's Apple and Blue Cheese Coleslaw With Toasted Wal
sheepdoc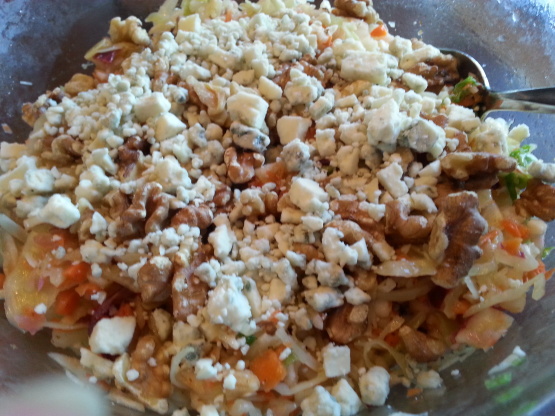 Can't wait to make this...may sub splenda in for the agave as the sweetener. Looks fabulous...would expect nothing else from my favorite company and website...Wild Oats.

I never considered putting blue cheese in coleslaw, but this was awesome. I only made half the dressing, boiled it, and put it on hot because that's my favorite way to make coleslaw. Also I couldn't find purple cabbage so settled for coleslaw mix with green and purple cabbage. Made for My 3 Chefs 2013.
Place first six ingredients in a blender; pulse to combine.
Add salt and pepper to taste.
Refrigerate until ready to use.
Combine cabbage, apples, carrots and green onion.
Toss with just enough dressing to coat. Season with salt and pepper.
Refrigerate for at least 2 hours before serving.
Add walnuts and blue cheese before serving.