lazyme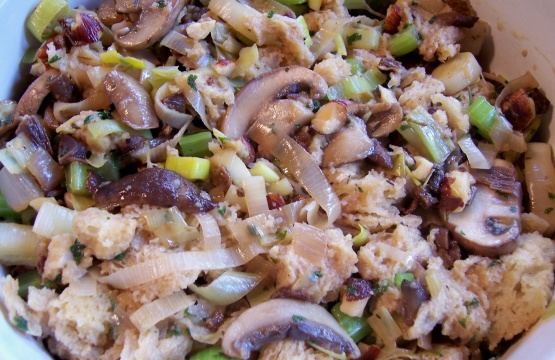 "A delicious stuffing made primarily of wild mushrooms! The stuffing of the Northwest! Originally submitted to ThanksgivingRecipe.com. Button mushroom caps can be substituted if crimini mushrooms are not for sale in your local market." - Recipe from Christine L. on Allrecipes.com

I first saw this recipe in the Nov. 1994 Bon Appetit issue. I've made this many times and everyone loves it. I live in Ca. so I use a crusty sourdough bread in place of egg bread. I don't remove the crust and to save a step I cut the bread up the day before, place on a cookie sheet, cover loosely with paper towels, and turn the bread at least twice. That way you don't have to toast it. Since hazelnuts are such a pain to husk, I have used pecans or pine nuts with excellent results. I think chestnuts would work well too. Use any combo of shrooms you want, I have used a combo of portabello, crimini, porcini and shitake. I also sub 1/4 cup of white wine for some of the chicken stock and add the wine and stock to the desired moistness I want, I don't like it mushy. This is a very tasty stuffing, try it and you will see! Thanks for posting, jesslems.
473.18

ml hot water

28.34

g dried porcini mushrooms

793.78

g egg bread, crust trimmed and cubed

88.74

ml unsalted butter

946.36

ml leeks, coarsely chopped

236.59

ml shallot, chopped

566.99

g cremini mushrooms, sliced

226.79

g fresh shiitake mushroom, sliced

473.18

ml celery, chopped

236.59

ml fresh parsley, chopped

236.59

ml toasted hazelnuts, chopped

44.37

ml fresh thyme, chopped

29.58

ml fresh sage, chopped

2

eggs, beaten

177.44

ml chicken stock
salt, to taste
ground black pepper, to taste

236.59

ml dried porcini mushrooms
Combine the 2 cups hot water and the porcini mushrooms, let stand until the mushrooms are soft. About 30 minutes. Drain, reserving soaking liquid. Squeeze porcini dry and chop coarsely.
Preheat oven to 325*. Divide cubed bread between two baking sheets. Bake until beginning to brown. About 15 minutes. Cool then transfer to a very large bowl.
Melt the butter in a heavy Dutch oven over medium-high heat. Add the leeks, shallots, crimini or button and shiitake mushrooms. Saute until golden and tender, about 15 minutes. Mix in the celery and porcini mushrooms and saute for another 5 minutes. Transfer mixture to the bowl with the bread crumbs. Mix in the parsley, hazelnuts, thyme and sage. Season with salt and pepper and stir in the beaten eggs.
To bake the stuffing in a turkey: Fill the main cavity with the stuffing. Combine the broth and 1/2 cup of the reserved porcini soaking liquid in stuffing to moisten. Spoon remaining stuffing into a buttered baking dish. Cover with buttered foil. Bake stuffing in dish alongside turkey until heated through, about 30 minutes. Uncover and bake until top is crisp, about 15 minutes.
To bake all stuffing in pan: Preheat oven to 325*. Butter 15x10x2-inch baking dish. Mix 3/4 cup reserved porcini soaking liquid and 3/4 cup broth into stuffing. Transfer stuffing to prepared dish. Cover with buttered foil and bake until heated through, about 1 hour. Uncover and bake unil top is crisp, about 15 minutes.