Wild Mushroom Spring Rolls With Chinese Mustard Dipping Sauce
Pneuma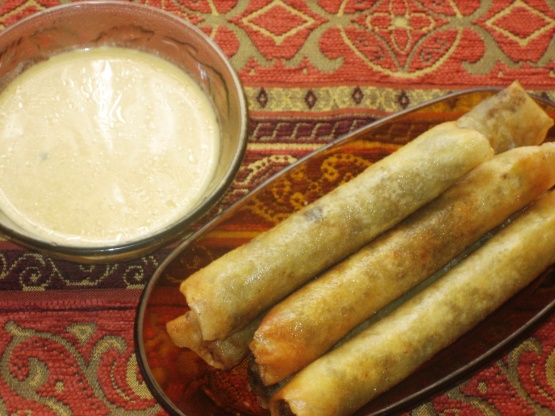 Recipe courtesy Tyler Florence and posted for Zaar World Tour III

Top Review by Pneuma
Mmmm yummy spring rolls.Loved the taste of assorted mushrooms (used shitake and portabella) and bean sprouts in it. The cilantro's taste was a bit overpowering but lessened and didn't mind it much after we dipped it with the mustard sauce. We used the round spring roll wrappers here (not familiar with square ones unless it calls for wanton wrappers). We also had to pause for a minute wondering what the mushroom sizes should be (whole?slices?bits?minced?)when mixing it with the others since procedure wasn't clear about that so we just chopped them into bits after we cooked them all to make them blend well with the rest of the ingredients when rolling into the wrappers. We'll still be making these delicious spring rolls though, it'll just be our preference to cut back on the cilantro,add more of the bean thread noodles and mince the mushrooms before cooking. Thanks, cookiedog!
Heat oil in a skillet or wok over high heat. Add the garlic, ginger, and scallions and cook for 1 minute. Add the mushrooms and cook for another minute.
Add the cabbage and carrot and cook until the cabbage starts to wilt, about 2 minutes.
Stir in the hoisin and oyster sauces; toss to coat the mixture.
Remove from the heat and mix in the noodles, sprouts, and cilantro; season to taste with salt and pepper. The filling should be moist but not wet. Remove from heat and allow to cool.
Lay a spring roll wrapper on a flat surface on an angle so it looks like a diamond. Spoon 2 tablespoons of the filling near the bottom corner of the wrapper and fold up to enclose the filling. Fold in the 2 sides. Paint the top seam of the wrapper with beaten egg. Continue rolling up to form a tight cylinder.
Pour about 1-inch of oil in a skillet or wok and heat to 350 degrees F. Fry the spring rolls, turning to cook all sides, until browned, about 2 minutes. Drain on paper towels and keep warm. Serve with Mustard Dipping Sauce.
For the Mustard Sauce: Mix all ingredients together and stir until the sugar dissolves.