Rita1652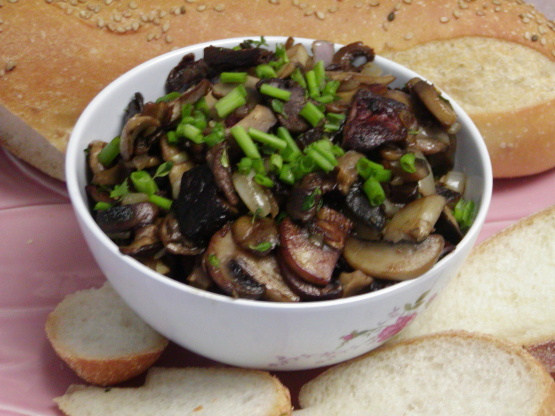 Like most people, I love mushrooms. I have even been taught by a Polish friend how to identify a few wild ones. When I find some, I make this wonderful saute.
Yum...simple and quick. I like the browning on the mushrooms and the simple garlic and shallots lets the flavor of the mushrooms come out! Thanks for posting evelyn!! made for culinary quest 2014, FP.
Rinse the mushrooms thoroughly in cold water.
Lift the mushrooms from the water and drain well.
Cut the larger mushrooms into 1 inch pieces.
Melt the butter in the oil in a large saucepan.
Add the mushrooms and saute over high heat until the liquid released has evaporated and the mushrooms are browned all over, about 20 minutes.
Add the shallots, garlic, salt and pepper and saute for 1 minute.
Sprinkle the herbs on the mushrooms and serve with bread.