Wild Mushroom Pizza With Truffle Oil

This recipe is from Cooking Light, and I waited a while to try it because of the expense of the truffle oil.....wish I hadn't. This is delicious. Don't forget the sea salt or flake salt at the end. Since making this, I've tried this on Naan bread to save time instead of making the pizza dough. It's better on the pizza dough, but still delicious on the Naan bread. Prep time includes rising time for the dough.
Directions
Pizza Crust:.
Dissolve sugar and yeast in warm water in a large bowl; let it stand 5 minutes. Weigh or spoon 5.6 oz flour into dry measuring cups; level with a knife. (1 1/4 cups).
Add the flour and 1/4 tsp salt to the yeast mixture; stir until a soft dough forms. Turn the dough out onto a lightly floured surface.
Knead until smooth and elastic (about 10 minutes); add enough of the remaining flour, 1 tbsp at a time, to prevent the dough from sticking to your hands. (Dough will feel tacky).
Place the dough in a large bowl coated with cooking spray, turning to coat the top. Cover the surface of the dough with plastic wrap lightly coated with cooking spray; let rise in a warm place (85°), free from drafts, 30 minutes or until doubled in size. (Gently press two fingers into the dough. If the indentation remains, the dough has risen enough.
Punch the dough down; cover and let it stand 5 minutes.
Line a baking sheet with parchment paper; sprinkle with cornmeal. Roll the dough into a 12 inch circle on a floured surface. Then place the dough on the prepared baking sheet. Crimp the edges of the dough with your fingers to form a rim; let rise for 10 minutes.
Preheat the oven to 475°.
Mushroom Topping:.
While the dough rises, heat a large nonstick skillet over medium heat. Add olive oil to the pan and swirl to coat. Add the mushrooms and remaining 1/4 tsp salt; cook 7 minutes or until the mushrooms soften and moisture almost evaporates, stirring frequently.
Sprinkle 1/4 cup fontina evenly over the dough. Arrange the mushroom mixture evenly over the fontina.
SPrinkle with thyme; drizzle evenly with the truffle oil. Sprinkle remaining fontina and Parmesan cheese evenly over the top.
Bake at 475° for 15 minutes or until the crust is lightly browned. Slide the pizza onto a cutting board; sprinkle with sea salt. Cut into 8 slices and serve immediately.
Most Helpful
OMG - this was out of this world! The flavors are just outstanding! I am a huge mushroom lover and this really filled the bill. I used a pre made thin pizza crust, but used all the topping ingredients. I found that I used double the amount of the Fontina cheese; the entire 2/3 cup on the crust and another 2/3 cup on the mushrooms. I also was pretty liberal with my white truffle oil. This packs a lot of flavor and was even better than I expected. I will definitely be making this again. Made for Culinary Quest 2014.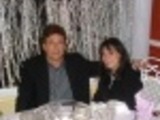 AMAZING! Such an earthy gourmet flavor - nothing like any pizza I've made at home. The 5.5 cups of mushrooms sounds like it would be too much but they really shrink up when you saute them. Also, I suspected the amount of cheese would be too little compared to pizzas I normally make but the strong flavors of thyme, truffle and fontina make lots of cheese unnecessary. I used black truffle oil for sauteing as well as drizzling. At 475 degrees, my pizza was done in far less than 15 minutes. Sooo delicious if you're a mushroom lover!

Enjoyed this pizza for dinner last night. I loved the taste of the combination of mushrooms and the truffle oil was divine (I used white). Like another reviewer, I added a lot more truffle oil to my finished pizza. DH actually divided this recipe into two pizzas, so we each had our own. This worked well. Fontina on the pizza was quite good. It was a cheese until recently I had not thought to use on a pizza. I would have this again. Thanks for posting! Made for Rookie Tag Spring 2013.