Wild-mushroom and Potato Stew
karen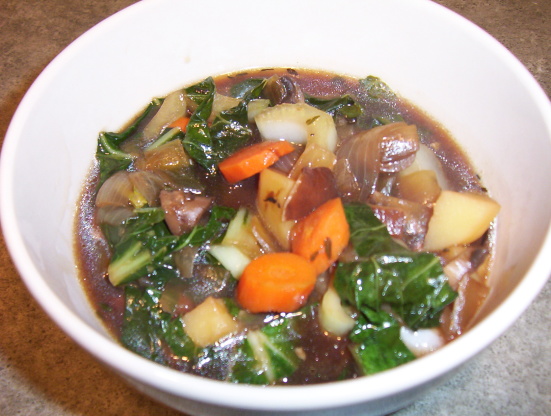 A nice vegetarian stew for a change?

Top Review by karen
This stew made a great healthy vegetarian dinner. I only had a couple of small white potatoes, but otherwise followed the recipe exactly, using homemade vegetable stock. I'd never tried bok choy before, and liked the taste and look that it added to the recipe. Oh...I did make one change. Since I only had a small amount of potatoes in the stew, I opted to thicken by adding about 1 tbsp of cornstarch rather than pureeing some of the potatoes.
Heat oil in heavy large pot over medium-high heat.
Add onions; sauté until golden, about 8 minutes.
Add mushrooms; sauté until tender, about 8 minutes.
Add wine and thyme; boil until liquid is reduced by half, about 1 minute.
Add next 4 ingredients; cover and simmer gently until vegetables are tender, about 25 minutes.
Stir in bok choy; simmer uncovered until tender, about 8 minutes.
Using slotted spoon, transfer 3/4 cup potato pieces to small bowl; mash with fork.
Return mashed potatoes to pot; simmer until juices thicken, about 5 minutes.
Season with salt and pepper; serve.