Wild Mushroom and Barley Pilaf
JustJanS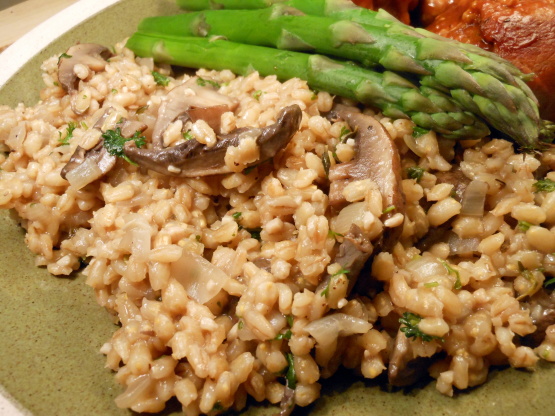 Another Heart Healthy recipe. This recipe features Portobellos, but feel free to substitute another variety of wild or cultivated mushroom. Can be made into a vegetarian dish by using vegetable broth in place of chicken broth.

Really nice flavour and very healthy! I added some dried garlic towards the end of cooking to boost the garlic flavour and this was lovely with some grated parmesan sprinkled over the top.
Heat a medium nonstick saucepan over medium heat. Pour the oil into the pan and swirl to coat the bottom. Cook the mushrooms, onion, and garlic for 5 minutes, or until the mushrooms have released some of their juices and the onions are translucent, stirring occasionally.
Stir in the barley; cook for 1 minute. Stir in the broth, salt, and pepper. Bring to a boil over high heat. Reduce the heat to low; cook, covered, for 45 to 50 minutes, or until the barley is tender.
Remove from the heat. Stir in the dillweed.