Wild Green Salad With Pomegranate Vinaigrette
Maito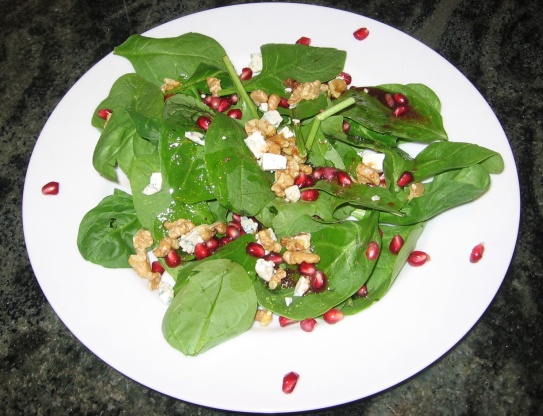 This is a great holiday salad. It is delicious and looks beautiful served on a platter or big bowl. Pomegranate seeds are so good. I got this recipe years ago from Sunset magazine.

Just served this at a girls only "re-gift" Christmas gift exchange party and it got rave reviews! Make it easy on yourselves though, use jar pomegranate juice and oj. I also tossed in candied walnuts from TJ's, and already shelled seeds. Way easier! Must reduce pomegranate juice for the dressing though! Wonderful recipe!
Whisk together pomegranate juice concentrate, oil, orange juice, vinegar, lemon peel and salt and pepper.
Gently mix salad greens with vinaigrette.
Divide greens on 6 to 8 salad plates or large platter.
Sprinkle with toasted nuts, bleu cheese and pomegranate seeds.
Enjoy!