awalde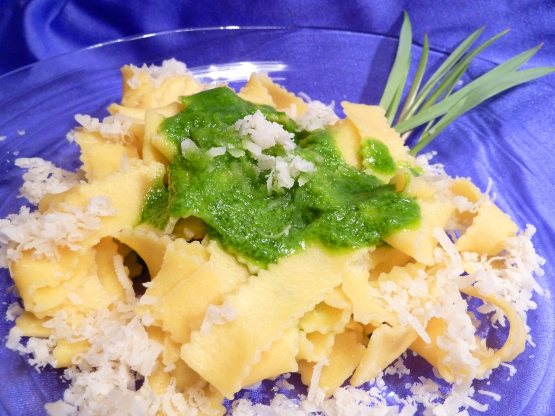 Wild garlic (Allium ursinum, Bear's garlic, or Bärlauch in German) is a wonderful chive cousin and is a very popular European species of garlic. Wild garlic pesto can be used as alternative to basil pesto as addition to pasta, tomato sauces and much more. Pick up the leaves before it had bloomed as apparently the leaves get really bitter after that point. Wild garlic can be confused with Lily of the Valley, autumn crocus and arum which are poisonous. If you have any doubt about your plant, do not eat it. The easiest way to tell if you have wild garlic or not is just to pick a small bit of leaf and rub it between your fingers. In the USA, ramp (Allium tricoccum), a wild plant with more onion-like flavor, is used for similar purposes.

Our of my colleagues had a wild garlic plant that is going crazy so she bought some into work to share. Not really knowing what to do with it other than putting it cottage cheese or quark, I decided to try this. It is really easy and very tasty. If she brings more in again, I will take more next time so I can make it again. :) Thanks!
In a small pan, gently roast the sliced almonds. Don't use any cooking oil.
Add almonds, salt, pepper and wild garlic leaves to a small food processor. Run at a high level until the garlic leaves are finely chopped and combined with the other ingredients.
Slowly add oil through feed tube to make a nice paste.
Taste and add more salt and pepper if you like…or add it later when you add the pesto to a meal.
Add more oil if you prefer it creamy.
Once everything is combined, scoop the pesto into a small, clean canning jar with a lid. I used a spatula to get everything out of the food processor and into the jar without loss or too much hassle.
Pour enough olive oil over the pesto in the jar to cover it. Store in your refrigerator up to a few months…if you don't eat it all by then. When you take some of the pesto out, remember to cover it back up again with olive oil as needed.
Serve on pasta and add fresh grated parmesan, grana padano or pecorino cheese.