Wild Game Chili (Venison and Wild Boar)
David04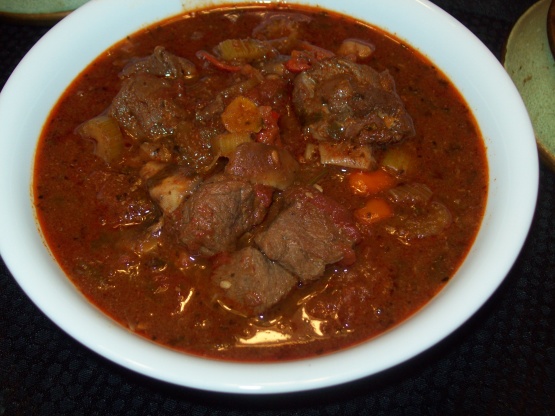 You can use your favorite game meat for this chili. I used the venison and wild boar because they were easier for me to find. You want to add the vegetables in layers in order to get a complex flavor throughout. I do not like beans in my chili, so if you are a bean lover, just add a can of kidney beans to the recipe.

I did the recipe with wild boar, and it is a real winner. I usually do chili with beans but it wasn't necessary with the mushrooms and they actually suited the boar better than with beans. I will use this one again for sure. Next time I will try it with deer or maybe mix the two. Thanks for sharing such a great recipe!
Chop meat and vegetables.
Season and brown meat in a coated large pot along with the garlic and half of the chopped onion.
Add beef stock, Chili Powder,Salt, Pepper, and Paprika and bring to a boil. Reduce heat and simmer for 30 minutes, this will allow the meat to absorb the flavor of the spices. Stir as needed.
Stir in peppers, remaining onion, celery, and mushrooms. Simmer for another 30 minutes, stirring as needed, to allow the vegetables to absorb the flavor of the spices.
Add stewed tomatoes, green onions and cilantro and stir.
Slow cook for 2-4 hours, stiring as needed. If you need more liquid, just add more beef stock.