Wild Blueberry & Maple Breakfast Quinoa With Toasted Pecans
Katzen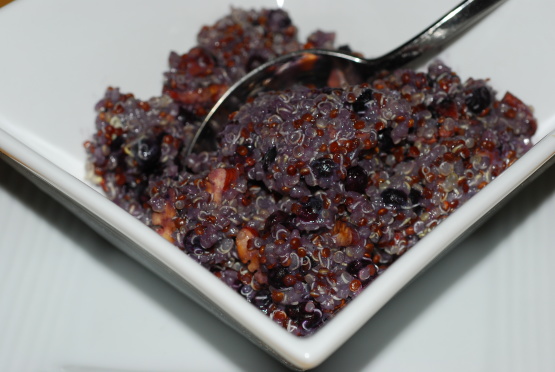 A delicious and healthy breakfast. Be sure to use wild blueberries for the best flavor. You may want to add additional pure maple syrup depending on how sweet your blueberries are. Note: I do not recommend adding the blueberries during the cooking process because it alters the flavor of the berries. Please wait to add them until after cooking the quinoa as stated in the recipe.

Doubled the recipe to fit the family, but otherwise made it exactly as per directions. As it turns out, my teenage son is gone to have breakfast with his girlfriend, so I have leftovers for another breakfast! To my taste, the tablespoon maple syrup and the blueberries at the end make the recipe. Without the fruit, it would be too much grain for me. I'll be trying another fruit with the leftovers. Definitely a keeper for this family!

By the way, we used as per recipe, so doubling made four servings. Large servings, so if you eat something else with it - yogurt, eggs, whatever - you'll likely want to count the basic recipe as 3-4 servings.
118.29

ml quinoa

118.29

ml low-fat milk

118.29

ml water

1.23

ml maple flavoring (optional)

1.23

ml vanilla extract (if not using maple flavoring, increase vanilla to 1/2 t.)

236.59

ml wild blueberries (I use frozen wild Maine blueberries)

2.46

ml cinnamon

59.14

ml coarsely chopped pecans, toasted

29.58

ml pure maple syrup (or more to taste)
Rinse quinoa in fine mesh strainer under running water. Drain well.
Place quinoa in saucepan over medium heat. Cook about 10-15 minutes, or until quinoa turns golden brown. (The quinoa will pop as it turns golden brown).
Add the milk, water and vanilla (and maple flavoring if using) to the saucepan. Bring to a boil. Reduce heat to low and cover, cooking about 10-15 minutes or until all liquid is absorbed. Remove from heat and let stand 3-5 minutes.
Stir in cinnamon, blueberries and pecans. Spoon into serving bowls. Drizzle each bowl with a tablespoon of pure maple syrup.