Rita1652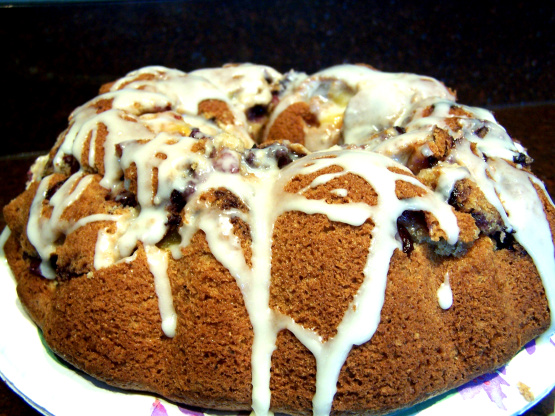 This cake is wonderful served with lemon ice or vanilla-bean ice cream. Yummmmy...My mil's east coast recipe. This very special cake is worth the effort to make.

I made with peaches and blueberries. Using a 1/4 cup of Recipe #101039 and 3/4 cups regular sugar. I was in a rush so when I inverted the cake to soon it fell apart. Oops! But didn`t hurt the flavor. I got to sneak a taste of the pieces that stuck to the pan. Thanks! Almost forgot I made the glaze with powdered sugar a touch of Grand Marnier and OJ mixing together and no cooking.
Cake.
Preheat oven to 350 degrees.
Grease a bundt pan, dust with flour, set aside.
Beat butter, 1 cup sugar in large bowl until fluffy.
Next beat in egg yolks, one at a time.
Mix in orange, lemon and lime rinds.
In fresh bowl beat eggs whites till soft peaks form.
Mix in remaining 1/2 cup of sugar until peaks become firm.
In a small bowl whisk flour, baking powder and salt.
Using a wooden spoon, mix flour mixture into butter mixture alternating with the orange juice.
Batter will be stiff.
Fold in egg whites and add 3 cups of blueberries.
Pour into prepared pan.
Bake in center of oven at 350 degrees for 45- 55 minutes.
Let cake cool on rack in pan for 20 minutes.
Glaze.
While waiting for cake to cool prepare glaze.
In a small pan bring sugar and juice to a boil for about 2 minutes, stir and let cool.
Remove cake from pan, place cake on rack and brush on glaze-- allow cake to cool before serving-- enjoy.