jenne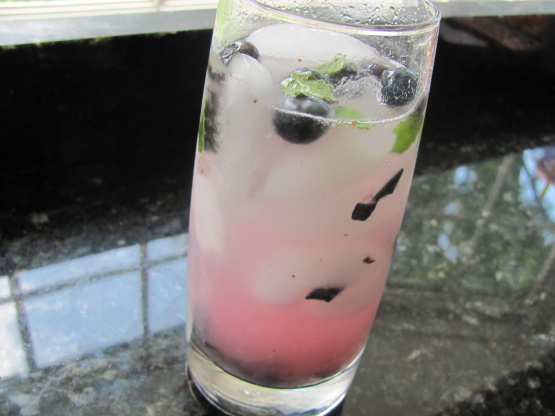 A refreshing non-alcoholic drink perfect for parties or poolside. Recipe adapted from The Everything Cocktail Parties & Drinks Book by Cheryl Charming. Original recipe called for 1/2 T sugar and 1 oz water, but I don't think it's necessary in this drink (just added calories).

Top Review by Katzen
Yumm-O! I've been on a diet cola lark for a while now, so it was about time to try something new, and this did the trick quite nicely! I used frozen wild blueberries rather than fresh ones, as this time of year I didn't think they'd have much flavour in this application. I defrosted them for about an hour, and like Syd, was generous with them. I squeezed a wedge of lemon in as well - lime would work just as well. This was deliciously refreshing! Reviewed for JB, VIP for Veggie Swap 24 (horribly late in reviewing, my apologies!)
Put the mint leaves and blueberries in a tall glass. Mash them together with muddler or wooden spoon to release flavor from the mint.
Fill glass with ice.
Pour in soda to fill up glass.
Garnish with mint sprig and 5 blueberries.